Boucherouite carpets, also known as "rag rugs" or "scrapped carpets", are traditional Moroccan carpets that are made from recycled materials such as old clothing, bed linens, and other textiles. They are known for their colorful and abstract designs and are often used as floor coverings, wall hangings, or even as seat cushions.
Boucherouite carpets originated in the rural areas of Morocco, where resources were scarce and people had to make do with what they had. They were made from scraps of fabric that were readily available, such as old clothing and bed linens, which were then woven together to create a carpet.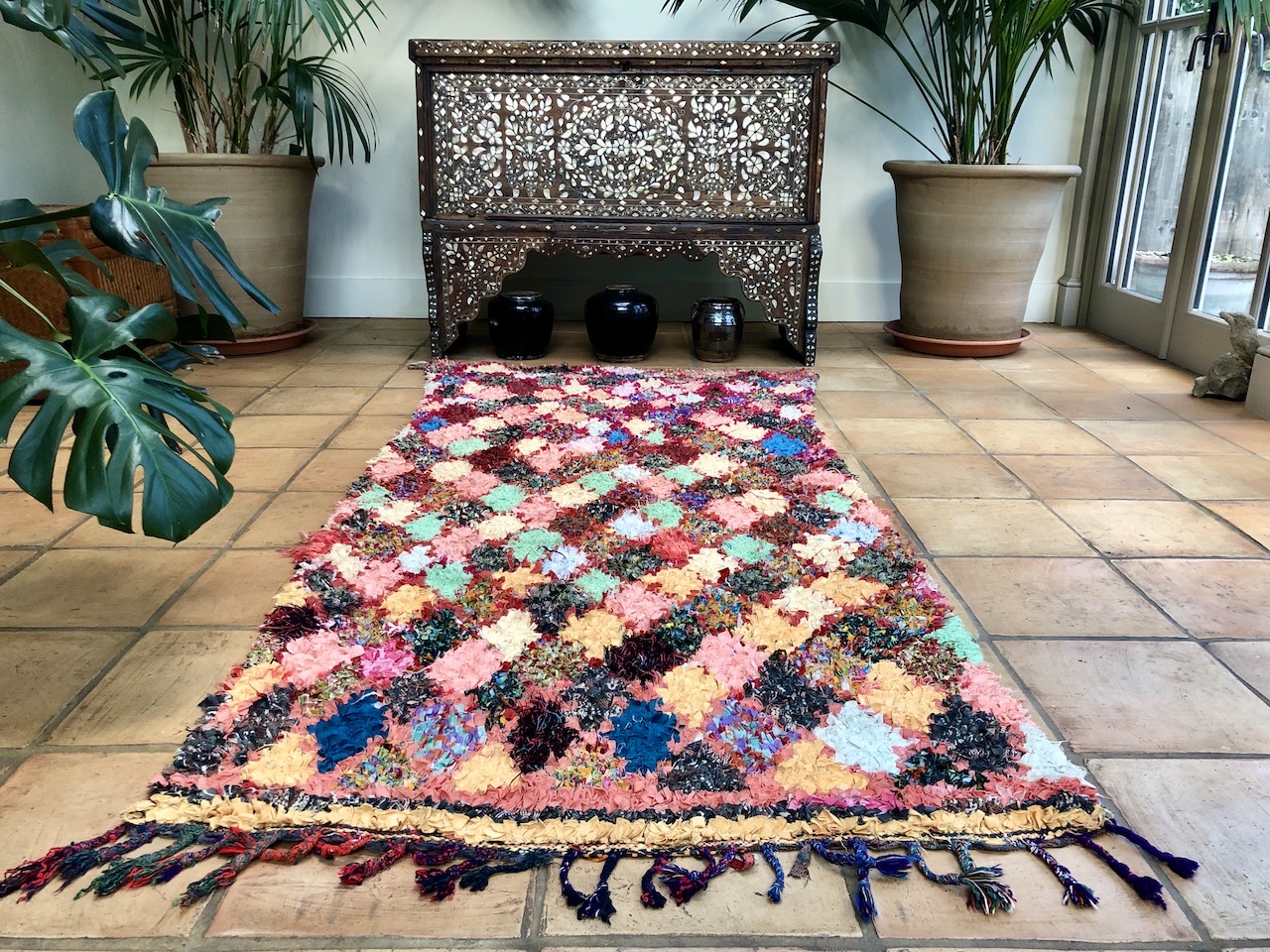 One of the main strengths of Boucherouite carpets is their unique and colorful designs. They often feature abstract patterns and shapes, and use a wide range of colors that can add a pop of color and energy to any room. The patterns are often inspired by nature and the tribal culture, and are made by the weaver's own imagination, which makes each carpet one of a kind.
Another strength of Boucherouite carpets is their eco-friendly aspect. They are made from recycled materials, which reduces waste and helps to protect the environment. They are also often made by women in rural areas, which provides them with an economic source of income.
Boucherouite carpets are also known for their durability. They are made from strong materials and are resistant to wear and tear. They can last for many years with proper care.
When purchasing a Boucherouite carpet, it's important to consider the quality of the craftsmanship and the design. The carpets are often made by hand, and the quality of the craftsmanship can vary. Look for carpets that have tight and even weave, as well as carpets that have been well-secured at the edges. It's also a good idea to ensure that the carpet is authentic and was made in Morocco by a local artisan.
Another thing to consider is the materials used. Boucherouite carpets are made from recycled materials, so the quality of the materials can vary. Look for carpets made from high-quality materials, such as wool or cotton. Also, if you are looking for a specific color scheme or design, it's important to look at the carpet carefully and make sure that it matches your preferences.
It's also important to note that Boucherouite carpets are often made with a mix of different materials, which can affect their durability and appearance. Some Boucherouite carpets may have a rougher texture than others, and may not be as soft or comfortable to walk on.
Overall, Boucherouite carpets are a beautiful and unique addition to any home, and are a great way to incorporate traditional Moroccan style into your decor. They are also eco-friendly and can be enjoyed for many years to come. They are perfect for adding a pop of color and energy to any room, and are also a great way to support local artisans and their culture.