Beni Ourain carpets are traditional Moroccan carpets that are made by the Beni Ourain tribe of the Atlas Mountains. They are made from high-quality, soft wool and typically feature geometric designs and a neutral color palette, such as black, white, gray, beige and brown. They are known for their soft, fluffy texture and are often used as floor coverings or wall hangings.
The designs of Beni Ourain carpets typically feature a combination of bold geometric shapes, such as diamond, triangles, and zigzag patterns. They are often simple but elegant, with a minimalistic aesthetic that is both modern and timeless. The color palette is usually neutral, and the natural ivory white wool is often left undyed, but some can have black or brown wool.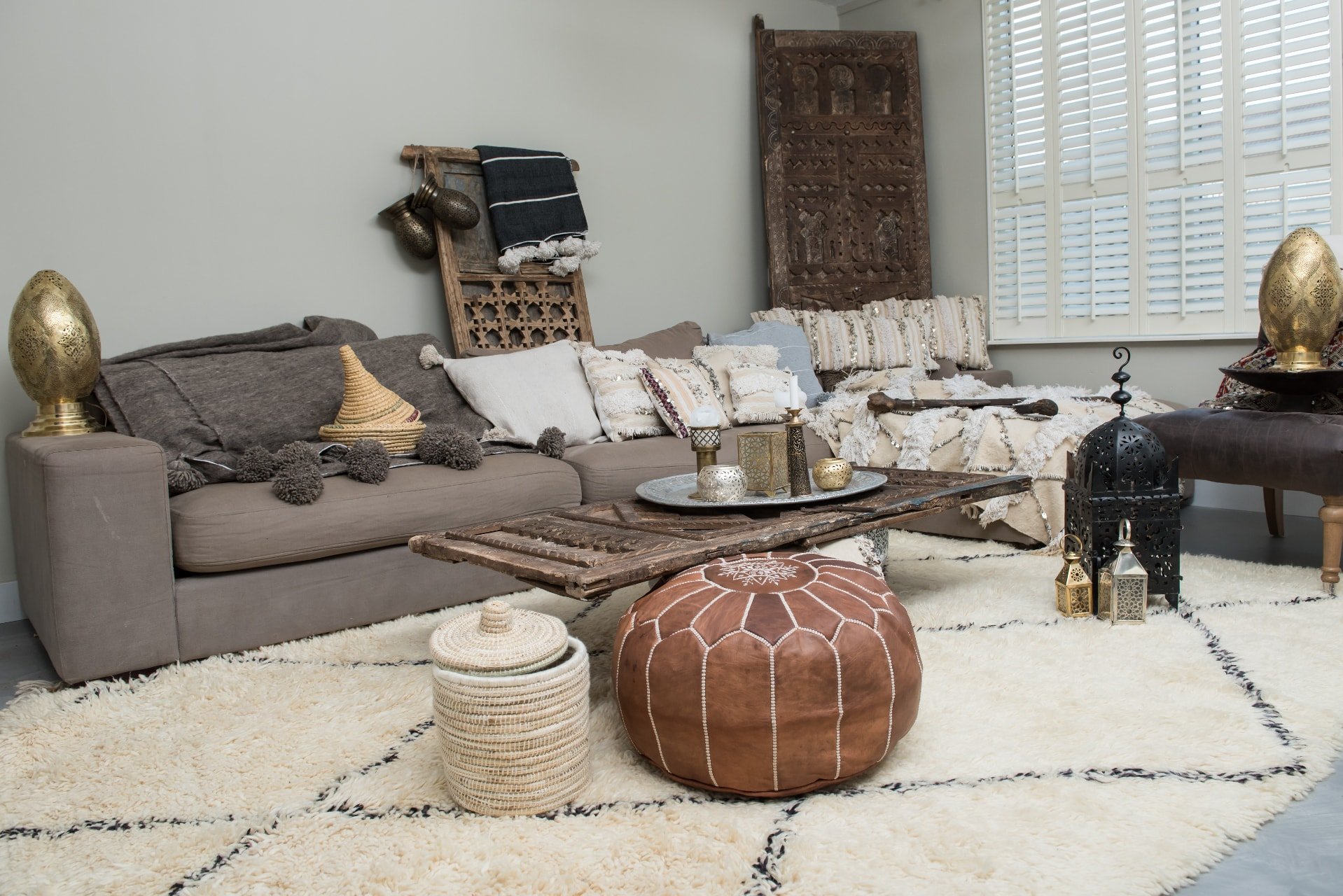 The wool used in Beni Ourain carpets is of high quality, which makes them soft and cozy to the touch. They are also known for their durability, and can last for decades if properly cared for. They are often used in bedrooms, living rooms, and other areas where a soft and warm floor covering is desired.
Beni Ourain carpets are a perfect way to bring a touch of traditional Moroccan style to any room. They are versatile, elegant, and can be paired with a wide range of decor styles. They are also a good investment, as they are often considered as a unique and valuable piece of art.
Beni Ourain carpets are not only functional but also have a deep cultural and historical significance. They are considered an important part of the traditional Berber culture, and were originally made by the Beni Ourain tribe for their own use. They were used to cover the floors of the tribe's tents and homes, and were also used as blankets and clothing.
Beni Ourain carpets are also unique in that they are made entirely by hand. The process of creating one can be quite labor-intensive, and can take several weeks or even months to complete. The wool is first sheared from the sheep, then cleaned and carded by hand. The yarn is then hand-spun and dyed using natural pigments. The carpet is then woven on a traditional loom using a technique called the "weft-faced plain weave" which create a thick and fluffy texture.
Due to their high-quality craftsmanship and unique designs, Beni Ourain carpets have become increasingly popular in recent years. They can be found in a wide range of prices, but the authentic and handmade ones are often considered more valuable.
When purchasing a Beni Ourain carpet, it's important to consider the quality of the wool and the craftsmanship, as well as the design and colors. It's also a good idea to ensure that the carpet is authentic and was made by the Beni Ourain tribe or by other Berber tribes. It's also important to find out how it was made and if it was made by hand or machine.
Overall, Beni Ourain carpets are a beautiful and unique addition to any home, and are a great way to incorporate traditional Moroccan style into your decor. They are comfortable, durable, and can be enjoyed for many years to come.